Hard Core of Islamist Activists Seized Ship Long before Israel
This surprisingly candid BBC Panorama documentary lays out the events surrounding the Mavi Marmara Turkish Flotilla designed to break the Gaza blockade, and the Israeli seizure of the ship.
The facts are presented with compelling video evidence and they are quite damning, but not for Israel as the media onslaught portrayed. Rather for the organizers, Turkey, and the IHH (now designated a terrorist supporting entity by Germany).
We learn..
The Organizers were prepared to break the siege at all costs, sanctioned violence.
Islamists seized the Ship before Israel arrived.
Islamists prepared for martyrdom, violence, and an assault on the IDF.
Turkey  was complicit.
The so called AID was a farce, cover for a violent confrontation.
The IHH set out to create a staged media disaster against Israel.
Hundreds of passengers were used as pawns.
Islamists sought to 1st lynch, then murder IDF troops.
Here is the video in 2 parts
Part 1
)
Part 2
)
The world rushed to judgment
But as usual the real story is a familiar one. Radical Islam, terrorists, violence, lies, manipulation.
They Are Sick All Right.. Sick In The Head.
More Flotillas are coming and once again they are packed with martyrs. This time in order to extract maximum propaganda punch and feed eager progressives their requisite dose of Israel hating outrage, Islam is now packing secret weapons..
Samar Alhaj, the woman leading the Hizbullah-linked Lebanese boat that is scheduled to try to block the naval blockade on Gaza, said in an interview with a regional Israeli Arabic- language radio station in Nazareth that women were "the new secret weapon" in use against the "thieving enemy."

Asked on Radio A-Shams by Zohair Bahloul why the ship, Mariam, would only be carrying women, she said, "We are women in order not to give the thieving enemy an excuse to use arms against the ship." She said the ship would be carrying cancer medication for children, and women suffering from breast cancer and cancer of the uterus due to "chemical bombs" dropped on Gaza by Israel.

Alhaj is the wife of an officer in the Lebanese security service who was jailed for four years for alleged involvement in the assassination of former Lebanese Prime Minister Rafik Hariri. Alhaj and her husband met with Hizbullah leader Sheikh Hassan Nasrallah on May 22.
In other words another 'peace' flotilla, powered by the new Islamic Feminism!
The levels radical Islam and its western sympathizers & enablers will now go to in order to de-legitimize the Jewish State have reached cataclysmic new lows. Encouraged by a planet that reflexively condemns Israel, radical Islam is now serving up cancer stricken women readied for martyrdom - All in order to feed the insatiable need of anti-semites everywhere for more pure unadulterated Jew hatred.
It's like a Pay Per View horror show of depravity. Hezbollah, which actively preaches martyrdom is sending its own sickened & blindly following Allah women out to goad Israel to violence against them for the cameras. As a cherry on top for their narrative from hell, they are armed with heart string pulling cancer medicines for 'children', which should prove to make an excellent by-line in news stories everywhere trashing us when we are forced to act – By maintaining our legal blockade against an entity with whom we are in fact at war.
Lest you for a moment be a European sucker..
Or perchance believe this is actually about Gaza, the organizers make clear exactly what the real mission is..
Meanwhile, Yasser Kashlak, a Syrian businessman of Palestinian descent who heads the "Free Palestine Organization" and is funding this boat, as well as another that is to carry journalists and parliamentarians, said over the weekend on Hizbullah's al-Manar television station that he was more and more optimistic that one day these same boats would take "Europe's refuse [the Jews] that came to my homeland back to their homelands.

"Gilad Schalit should go back to Paris and those murderers go back to Poland, and after that we will chase them until the ends of the earth to bring them to justice for their acts of slaughter from Deir Yassin until today." Kashlak, a fervent Hizbullah supporter, called Israel a "rabid dog sent to the region to frighten the Arabs.

He said he had a message for Israelis: 'Get on the ships we are sending you and go back to your lands. Don't let the moderate Arab leaders delude you, [you] cannot make peace with us. Our children will return to Palestine, you have no reason for coexistence. Even if our leaders will sign a peace agreement, we will not sign.'" He said the boat carrying journalists and parliamentarians will carry 12 former American diplomats as well..
The destruction of Jews, the destruction of Israel, the de-legitimization of our very existence is the goal. No one could care less about humanitarian aid to Gaza, in fact if everyone in Gaza died de-legitimizing the filthy Joooz that would be fantastic!! Just a bit more propaganda grist for Allah's sick mill.
In order to garner legendary hate ratings Allah's servants in radical Islam are now serving up their own women, complete with cancer and every other manner of propaganda for an eager audience. How can we combat this when so called 'normal people', nihilists everywhere are not only not repulsed, but are actively supporting this depravity under the guise of being humanitarians?
Leader of the Free World – President Obama.
How can Israel a tiny country which stands almost alone in a sea of billions combat this, when the President of the United States of America – The leader of the free world himself cannot even show enough fortitude to stand up and say his own country is at war with this depravity & radical Islam, its chief breeding ground? When by his own order the words Jihad, radical Islam, and Terror are to be stricken from the lexicon..
Do you know what term then replaces these words in such a vacuum of moral leadership & fortitude? The word Humanitarians.
UPDATE: Hezbollah interprets our moral outrage & conundrum over this depravity as 'more weakness'
'The Zionists fear boat carrying women who want to deliver aid to Gaza, so how will they be able to face rockets in next war?'
Not only that, but to wipe the taint of Hezbollah from all this the ship is purporting itself to be a Christian Mission! Including praying at shrines of the Virgin Mary. Taqiyya at its best. Black is white, up is down. It's a brave new nihilist world.
———-
More from the memeorandum.
Youtube Eyeblast Revolution
Our enemies are liars & propagandists. In Israel we face the contemptible yet all too vogue wave of moral equivalence that is sweeping the Liberal world. The Jew and Israel is judged by a twisted double standard – While the hate monger, the gay beater, the Islamofacist who denies nearly every freedom imaginable is cheered and admired from afar, granted almost heroic status. The challenge to confront this is immense.
The world delights at condemning Israel.
The nations of the world literally line up, they get in line and wait one after the other to condemn Israel at every opportunity. Truth is irrelevant, we saw this at Jenin, we saw it when shells hit a beach in Gaza, we saw it when Hezbollah organized propaganda for eager willing media in Lebanon during 2006 hostilities. We saw it with Mohamed Al Dura – Lies beget more lies and the media perpetuates a narrative written by peoples, groups & organizations that are not only in theory supposedly outcast by humanity, but literally illegal! The word of the terrorist carries more weight in this twisted landscape than the word of a free, democratic, lawful state like Israel.
It seems as if whatever propaganda our foes engineer is celebrated in an orgy of media & editorials, backed up by instantaneous international condemnation. Mind boggling, the only explanation is hatred. Can we fight back? Not conventionally. Our guilt is pre-determined irrespective if we were even at the scene of the crime. If the truth finally emerges, the lies or slander is never retracted. Fighting against this wave seems insurmountable.
We can chip away
We have to be quicker, more clever, and just as devious. Our own Propaganda can as exhibited below accomplish that task, because it carries with it something our enemies propaganda lacks, a core of truth. The Latma spoof: We Con the World in 4 days has well over 1 million views, and that is just at the original upload spot at YouTube.
The IDF video (graphic) showing the brutal beating of our soldiers by 'peace activists', was the top video at youtube for a few days running. Garnering nearly 2 million views and that is without the airing in international media. Sadly the long delay getting it to that air, cost us dearly in Israel. Lesson learned.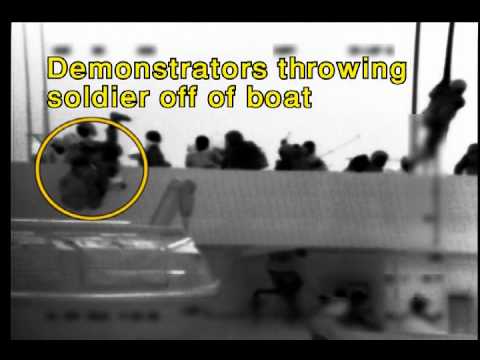 We may not be able to out lie our opponents.
It is not in our nature, but we can outsmart them. We can outflank them. If anything the latma spoof has  proved we must not only be on offense militarily to protect the State, we must do so in the PR realm as well. We are just as passionate, and just as dedicated as our foes and our cause is eternally more just. There is no reason to be losing this battle for PR supremacy. The world may delight at condemning us, but the spoof should prove to one and all that we should delight at condemning them too.
The Truth will not set us free, broadcasting it out in a clever nimble way however just might.
UPDATE: Youtube responding to anti-Israel pressure from WarnerBros music pulled the We Con the World video after 3 million+ views due to what they claim is "copyright infringement". Of course we all know in the blogging world that parody clearly falls under copyright fair use clauses.