Hard Core of Islamist Activists Seized Ship Long before Israel
This surprisingly candid BBC Panorama documentary lays out the events surrounding the Mavi Marmara Turkish Flotilla designed to break the Gaza blockade, and the Israeli seizure of the ship.
The facts are presented with compelling video evidence and they are quite damning, but not for Israel as the media onslaught portrayed. Rather for the organizers, Turkey, and the IHH (now designated a terrorist supporting entity by Germany).
We learn..
The Organizers were prepared to break the siege at all costs, sanctioned violence.
Islamists seized the Ship before Israel arrived.
Islamists prepared for martyrdom, violence, and an assault on the IDF.
Turkey  was complicit.
The so called AID was a farce, cover for a violent confrontation.
The IHH set out to create a staged media disaster against Israel.
Hundreds of passengers were used as pawns.
Islamists sought to 1st lynch, then murder IDF troops.
Here is the video in 2 parts
Part 1
)
Part 2
)
The world rushed to judgment
But as usual the real story is a familiar one. Radical Islam, terrorists, violence, lies, manipulation.
Youtube Eyeblast Revolution
Our enemies are liars & propagandists. In Israel we face the contemptible yet all too vogue wave of moral equivalence that is sweeping the Liberal world. The Jew and Israel is judged by a twisted double standard – While the hate monger, the gay beater, the Islamofacist who denies nearly every freedom imaginable is cheered and admired from afar, granted almost heroic status. The challenge to confront this is immense.
The world delights at condemning Israel.
The nations of the world literally line up, they get in line and wait one after the other to condemn Israel at every opportunity. Truth is irrelevant, we saw this at Jenin, we saw it when shells hit a beach in Gaza, we saw it when Hezbollah organized propaganda for eager willing media in Lebanon during 2006 hostilities. We saw it with Mohamed Al Dura – Lies beget more lies and the media perpetuates a narrative written by peoples, groups & organizations that are not only in theory supposedly outcast by humanity, but literally illegal! The word of the terrorist carries more weight in this twisted landscape than the word of a free, democratic, lawful state like Israel.
It seems as if whatever propaganda our foes engineer is celebrated in an orgy of media & editorials, backed up by instantaneous international condemnation. Mind boggling, the only explanation is hatred. Can we fight back? Not conventionally. Our guilt is pre-determined irrespective if we were even at the scene of the crime. If the truth finally emerges, the lies or slander is never retracted. Fighting against this wave seems insurmountable.
We can chip away
We have to be quicker, more clever, and just as devious. Our own Propaganda can as exhibited below accomplish that task, because it carries with it something our enemies propaganda lacks, a core of truth. The Latma spoof: We Con the World in 4 days has well over 1 million views, and that is just at the original upload spot at YouTube.
The IDF video (graphic) showing the brutal beating of our soldiers by 'peace activists', was the top video at youtube for a few days running. Garnering nearly 2 million views and that is without the airing in international media. Sadly the long delay getting it to that air, cost us dearly in Israel. Lesson learned.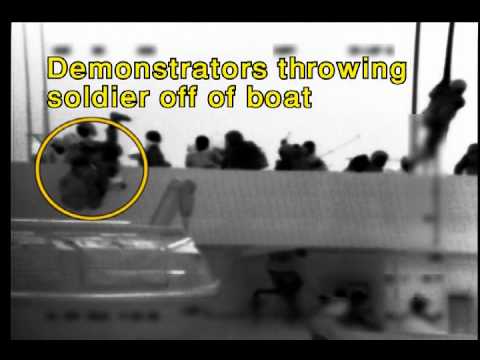 We may not be able to out lie our opponents.
It is not in our nature, but we can outsmart them. We can outflank them. If anything the latma spoof has  proved we must not only be on offense militarily to protect the State, we must do so in the PR realm as well. We are just as passionate, and just as dedicated as our foes and our cause is eternally more just. There is no reason to be losing this battle for PR supremacy. The world may delight at condemning us, but the spoof should prove to one and all that we should delight at condemning them too.
The Truth will not set us free, broadcasting it out in a clever nimble way however just might.
UPDATE: Youtube responding to anti-Israel pressure from WarnerBros music pulled the We Con the World video after 3 million+ views due to what they claim is "copyright infringement". Of course we all know in the blogging world that parody clearly falls under copyright fair use clauses.
Classic!
Last year Keep America Safe launched with great fanfare, sporting founding luminaries and heavyweights such as Liz Cheney & William Kristol. Now, The Weekly Standard tips that a new organization called Keep Israel Safe is now raring to go..
THE WEEKLY STANDARD has obtained an advance copy of a web ad with which a new organization, Keep Israel Safe, is launching in the near future. Keep Israel Safe is obviously patterned after Liz Cheney's Keep America Safe (of which—full disclosure!—the boss is a director). Imitation being the sincerest form of flattery, the video resembles some of KAS's successful ads. It will be interesting to see who's behind this new pro-Israel effort. For now, if you go to KeepIsraelSafe.com, you get a notice that the website is coming soon (within the next 24 hours, I'm told).
Here's the debut video.
Both this ad, and the Keep America Safe web ads I have seen are reminiscent of the McCain presidential run video ads, high quality pulling no punches. Here's one of my favs from MAC's run for comparison sake slamming Obama..
Because You Need It!
I'm reflecting on the non stop media sensation regarding the liquidation of terrorist filth in Dubai recently. I've been struck by a number of things. Firstly, there's the usual outcry of manufactured rage from our European pals, whom it seems are always outraged over something or other while the rest of the world simply yawns & proceeds to ignore them – Such is the importance of the EU these days.. (Yawn).
Isle of Outrageous
The British media is particularly incensed, and why shouldn't they be? This is bread & butter for them. British media no longer does news, now they do who's wife is screwing whom in various football leagues, along with top stories on which latest celebrity daughter was seen puking outside the nearest pub. This is what passes for important news & events in Britain these days. In light of that depressing reality opportunities to take potshots at anyone or everyone is now a British media cornerstone – Anything to take people's minds off how shoddy the UK has become overall.
So whether it be whipping up faux rage on Israel (a brit favorite) or seizing on total invented nonsense like calling the Vancouver Olympic games the 'worst in history' (from the Guardian, a joke of a newspaper if you ever saw one) – If the British media can invent a sensation based on nothing at all, believe you me they will. Anybody know what color panties Carla Bruni wore yesterday!? Quick! We need confirmation, check the frontpage of any British newspaper.. (Yawn).
Der Spiel.. er Spiegel
Our natural & steady allies in Germany (the product of slaughtering Jews, complete with cattle cars & ready bake ovens) have devoted 5 pages in Der Spiegel on the Mossad Operation Gone Awry. Other than the fact that the operation was successful, everyone got away, no one has been identified, and the Hamas cockroach on our most wanted list is now quite dead.. This was a real botch!! *eye roll*
Der Spiegel is quick to point out how the vaunted reputation of the Mossad is now tarnished complete with this gem at the end for added dramatic effect..
The Mossad, which is presumably no longer able to use 11 of its agents, is already searching for new recruits. There is a job application form on the agency's Web site (www.mossad.gov.il), under the keyword "career." The areas where potential intelligence agents are needed, according to the site, include computer technology, logistics and "special projects."
Wow, that is dramatic. We're in emergency mode over here in Israel! We need recruits it seems, too bad the Mossad revamped its website & opened it up to recruiting online several years ago, but why let little things like facts ruin a good Israel smack-down story right? It fits the narrative more eloquently to pretend this is an emergency recruiting rush to shore up the non-botched operations we are running. (Forgive me, while I *eye roll* again.)
Well oiled German machine a 'Team Effort'
The piece in Der BS'er is written up by no less than 6 people! – I guess when you need to cram that much bullsh*t into such a small place it takes a lot of guys to do the hauling.. Either that or they break it up into small bits to keep that illustrious German economy hauling along, seeing as it is one Fraulein away at any moment from imminent & total collapse these days.. But I digress, there's another country that needs an Israeli whipping boy much more than the sour krauts – Illustrious Dubai! Yes, that ocean of insolvency in the sand!!
Someone toss Dubai a quarter, they need to call 911..
Mere weeks after topping world wide headlines for days on end, Bankrupt Dubai needs all the help it can get. People are scratching their heads wondering how they managed in Dubai to piece together all that security camera footage so quickly!? Is that a real mystery these days? What else is there to do in Dubai right now? Those guys are splicing & dicing the video footage like there's no tomorrow! Because, well.. there isn't. Of course these guys are working the video like gerbils on speed! Anything to hold on for dear life to that paying government job on the isle of insolvency.
More striking was the fact that in all those hours upon hours of footage one sees massive brand new airports filled with absolutely NO ONE but alleged Mossad agents! It's like one of those new fangled zombie movies, albeit after the zombies have eaten away the entire population food source and are just roaming around, looking for that one guy running around without shoes, but sporting a flashlight and a shotgun…
Dubai 2.0
Scouring the footage also reveals half a dozen spiffy hotels complete with shooting water fountains, marble floors.. and not a single patron anywhere in sight! One of the alleged Mossad agents supposedly called in to the front desk to verify if room 237 across from the Hamas target was 'available'.. Silly goose, of course it is. The vacancy rate in the multi-billion dollar oil money funded hotel is at 99%. PLEASE – JUST CHECK IN!! Kill anybody you want!
Drowning in Red Ink Special!
Is that your bag with your rocket launcher Mr Spy Man? No problem, Mahmoud – snap snap.. Bellhop that up to room 237. Here are your complimentary breakfast buffet coupons Sir. There is a 10 dollar surcharge for any brain matter or blood spatters in rooms, shall I tack that on now or later? You know what, 1st assassination in light of the economic times is on the house, just please I beg of you tell all your friends!!! Let them know there's always action in Dubai..
Frankly I don't care if that credit card is forged and you are wearing what is obviously a silly disguise, take as many rooms as you like, here in Dubai we need all the help & sensationalism we can get right now.. We're going to milk this till the camel milk runs dry.
Over Here in Israel
No one really cares, another dead terrorist? Good. EU Media is up in arms!? What's New?
Haaretz will whine about needing to see heads roll, or how if Livni was in charge the pomegranate trees would bloom 365 days a year. Better yet, blame it on Bibi - If your toilet backed up its because Netanyahu is leading in every poll. *Yawn* It's not Haaretz's fault, just like in Britain, newspaper circulation is down – And nothing sells papers like a little Jew bashing, just ask Aftonbladet in Sweden – Clearly we killed this Hamas man in order to sell his kidneys on the black market. (Insert latest Eye roll here..)
—————————
UPDATE: Soccerdad has linked over, & he has more on the rage that has developed. His post and links are a little less snarky too lol.
Under Berlusconi Italians Are Strong Friends of Israel
I've posted about Italy previously, in relation mostly to Italian elections out of concern that the election of Prodi over Berlusconi would harm Israeli / Italian relations.. That's precisely what happened when Prodi won. His large Communist block was viciously anti-Israel and Italian Anti-Semitism spiked. My efforts then got me onto the frontpage of Libero.it, Italy's largest web portal, a nice honor which warmed my heart further.
Thankfully for Italian Israeli relations Prodi is gonzo, and Berlusconi is once again leading Italy.
Which means we have a close friend restored to the Italian driver's seat. Both commercial & military cooperation will continue to flourish benefiting both countries. But now via Haaretz we are learning that there are added benefits to this strong relationship & they are far from trivial. Specifically in the form of Italy stepping forward to heal the massive rift that has opened between Israel & Sweden over the libelous, absurd, world famous, and very anti-semitic 'Organ Harvesting' article in the Aftonbladet Swedish tabloid (I refuse to link to this trash).
Is the crisis in relations between Israel and Sweden coming to an end? That is what Italy's foreign minister, Franco Frattini, would like to believe.

In a telephone conversation with Haaretz, Frattini said he recently met with his Swedish counterpart, Carl Bildt, and the two agreed that at a meeting of European Union foreign ministers later this week, they will work to pass a resolution making it clear that the EU, under the Swedish presidency, strongly condemns anti-Semitism and will take action against any manifestation of it on the continent.

Frattini said he intends to demand that the meeting's summary statement explicitly condemn the article published in the Swedish tabloid Aftonbladet, which claimed that Israeli soldiers harvested the organs of dead Palestinians. He said his proposed statement would declare articles of this sort to be "acts of blatant anti-Semitism." "There are limits to freedom of the press that stem from respect for the truth and the duty of every journalist to prove his claims," Frattini explained.

The accusations in the Aftonbladet article are "terrible conclusions, lying and hurtful, and they have the power to assist all those who seek to incite against Jews or who oppose the existence of the State of Israel," he added. However, Frattini stressed, "the state cannot intervene in the work of the press. The journalists are the ones who must set limits for themselves and must find the right balance within the framework of the journalistic code of behavior." [...]
This Italian initiative is the strongest European condemnation we have seen of this affair to date, and make no mistake – Our friends in Italy have gone to bat for us here in Israel in a big way. Nothing remotely of the sort has come out of Sweden, they've been on the fence for far too long.
If Italy's Foreign Minister in conjunction with Sweden can pull this off, the affair will hopefully be behind us all. This will benefit both Israel & Sweden, and the friendship we have come to rely on from Italy especially under Berlusconi is solid & valued. We are short on allies, Italy is one of them.
Grazie Berlusconi, Grazie tanto Italy!
(I hope I got that right..)
Dumbest Man on TV?
If you ever watch him on MSNBC you already know, Olbermann is an idiot. He's over the top, partisan, often factually incorrect, and instead of allowing the natural events of the news to stir interest & curiosity in the viewer he usually prefers to showcase himself. In short, he is the exact antithesis of the classic definition of a newsman.
That's why I found this so alluring, not only does Olbermann compare the greatest technological achievement of mankind in its time, to the election of Obama! Which is absurd in itself to the point of mockery, he also seemingly alludes to his own 'greatness' at the same time.
He famously likes to liken himself to Walter Cronkite, using Cronkite's sign off lines & mannerisms liberally in his nightly 'showpieces'.. Here he elevates idiocy to all new levels equating himself to Cronkite in an offhand manner the night Man left the atmosphere and landed men on the Moon, complete with incoherent analogies. A double shot of idiocy from the king of the morons himself.. Is it any wonder MSNBC has become the clown network?