Search Results for:
hezbollah
Damaging Imagery Shows UNIFIL Forces Shielding Lebanese Soldiers Attacking the IDF
The IDF informed UNIFIL UN 'peacekeepers' of  the brush clearing operations which were taking place on the Israeli side of the border with Lebanon in advance. The images clearly show soldiers working with a crane to clear brush. This is how it looked..
From Haaretz (AP & Reuters Images)
UNIFIL
The UN forces were supposedly enhanced & put in place by resolution 1701 ending the 2006 war to keep Hezbollah from the border with Israel. They have failed at that mission clearly in general.
So now what is their purpose? Is it to shield the Lebanese Army while it opens up with automatic sniper fire on IDF soldiers in ambush!? Is it to allow the Lebanese to fire RPGs at us while we cannot respond lest the world go insane because a UN Peacekeeper / Human Shield was hurt or killed??
Israel Defense Forces GOC Northern Command Maj. Gen. Gadi Eizenkot announced Tuesday that the two Israeli officers had been very seriously hit during the exchange of fire. Eizenkot said that the incident had been a "deliberate ambush."

Eizenkot told Israeli media that "a routine operation was carried out during the afternoon near Misgav Am – an operation whose purpose was to trim some bushes near the border, in our [Israeli] territory. It was on both sides of the border but still within [Israeli] territory. Officers oversaw the operation from a permanent position. Sniper fire was directed at the officers, and two of them were wounded as a result."

The GOC Northern Command stressed that "this was a pre-planned event, aggression by the Lebanese army who shot at soldiers inside Israeli territory without any provocation. We view this as a very severe incident."
Where is Ban-Ki Moon?
Where is US Ambassador to the UN  Susan Rice?
Where is the UN Security Council which only convenes emergency sessions to CONDEMN Israel?
Where is our only ally the United States of America who helped negotiate & force this UNIFIL farce in the 1st place in 2006?
They have all been very quiet today. A stark contrast to their usual rush to judgment statements when it comes time to smear the State of Israel.


Updated: My thanks to IsraPundit & Israel Matzav for linking over.
Yamit: There is no doubt in my mind of UNIFIL's complicity. Israel meaning BB is also complicit in our tepid response. Most of all Bush and Olmert are responsible for the murder of a senior Israeli officer. The silence of the world is deafening, is anyone surprised?
Yes – You can hear a pin drop when Israel is the victim. No matter.. Am Israel Chai.
SD also has unanswered questions on the UNIFIL role, and the media reportage.
Crashes Always Bring Out The Critics
The tragic loss of an IAF CH-53 in Romania possibly killing 7 is sure to bring out the critics as such tragic events nearly always do. The Yasur has indeed suffered some horrific collisions & crashes over its near 50 year history with the IAF..
The most notable of these accidents was a crash in February 1997, when a mid-air collision of two Yasur craft killed 73 Israeli servicemen en route to southern Lebanon. Two decades earlier, in May 1977, the Yasur was at the center of another deadly accident, when 54 paratroopers lost their lives in a crash during a training accident not far from the West Bank town of Jericho.

Several months later, another accident involving the Yasur saw four servicemen killed in a crash close to Kibbutz Gat in southern Israel. In summer 1971, another Yasur helicopter crashed into the sea off the Sinai coast, killing 10 soldiers and officers as they returned to Israel following a mission.

In April 1974, two more Yasur helicopters were involved in a collision, when one landed directly on another already on the ground. Eight soldiers were killed in the incident.

In August 1992, two members of the IDF's elite search and rescue unit, the 669, were killed in a training accident in the Judean Desert. The two soldiers fell to their deaths when a rope used to descend from a Yasur broke.

During the Second Lebanon War, Hezbollah succeeded in shooting down a Yasur, killing its five crew members. [...]
Modernization Program
Those incidents represent extreme numbers casualty wise. But the numbers are high because the Yasur is both so critical, and heavily utilized. It is the backbone of the IDF's troop transport capabilities holding over 20 soldiers. Nearly every legendary assault by the IDF in some shape or form involves our CH-53s. Recently, there have been pushes to replace the venerable Yasur choppers with the US VTOL Osprey.
The Yasurs are just too old is the usual theme, followed by those heavy loss statistics. However, today's IAF Yasurs are a far cry from their original incarnation and have undergone two full modernization programs, the latest Yasur 2025 has extended the operational life of the choppers well into the next 2 decades.
A new version of the 'Yasur' helicopter joined the growing IAF fleet. The 'Yasur 2025' program, two and a half years running, hopes to improve the IAF's 'Yasur' helicopters by extending their service in the force until the year 2025. "Today Israel's best assembly lines are rolling out prototypes of new strategic combat helicopters," said commander of the IAF base in Tel Nof, Brigadier General Ronen Dan during his speech.

The 'Yasur' helicopters squadron has served the Air Force since the 1960s and is an essential part of the IDF fighting forces. Whether in routine operations, in transporting forces and equipment, in evacuating combat soldiers from the field and in executing other special missions. "From 1969 until today, the 'Yasur' helicopters have written many significant pages in history, and have executed operations which the vast majority of people are not even aware of, but are grateful for" added Brigadier General Dan. Three years ago, it was decided that the expected life for functioning helicopters should be extended, and lengthen their service until 2025.

As part of the project, new systems were installed on the helicopter, among them were, self-defense systems, electronic countermeasures, network communication, flight safety, and other advanced systems – most of them are developed in Israel. "We all wait with baited breath to fly on the newly improved platform which brings with it impressive capabilities in many different aspects. It has the compatibility for further improvements in the future as well as installing other systems, and is infinitely important to the battlefield of the future.
The choppers have been retooled. The IDF naturally generalizes but part of the re-tool includes upgraded modern avionics & systems with Israeli variants, offensive Air to Ground missile targeting and launching capabilites, hover & stabilization technologies, as well as a new raised operational ceiling well above normal..
Work to modify the CH-53 "Yasur" with 20 new systems was completed at the air force's 22 maintenance unit late last year, with key elements including the installation of new electronic warfare and satellite communications equipment. Some of the equipment will enable the CH-53 2025 to perform high-altitude relay missions, with earlier test flights having seen the type reach an altitude of 18,000ft (5,490m).
Flight testing?
The latest crash was deep in mountainous terrain within Romania, likely at higher altitudes perhaps testing some of the new Yasur 2025 capabilities in adverse weather. Dangerous business. The loss of our soldiers especially during operational training is never easy. Keeping the IDF on the cutting edge in both manpower & technology is a terribly costly endeavour. Pilot error, mechanical failure all take their toll and leave every Israeli saddened.
But now is not the time to just mourn this sacrifice, question our brave men and women or their equipment. Instead we should celebrate their achievements. Our pilots and the Yasur's they fly are the workhorse of the IDF, keeping us safe through their skill and daring.
Through 2025 and well beyond.
The following are the names of the six missing personnel who were on the IAF helicopter that crashed in Romania:
Lt. Col (Res.) Avner Goldman (48), Modi'in
Lt. Col. Daniel Shipenbauer (43), Kidron
Maj. Yahel Keshet (33), Hatzerim
Maj. Lior Shai (28), Tel-Nof
Lt. Nir Lakrif (25), Tel- Nof
Sergeant 1st capabilitiesClass Oren Cohen (24),endeavor Rehovot
Let's hope they can yet be recovered.
UPDATE:
Sadly I was being respectful to the families this morning when I wrote that line above. We all knew tragically, that no one was going to be recovered alive from the crash site. The IDF has released now officially that all six Israeli aviators and the lone Romanian soldier onboard were KIA in the crash.
They Are Sick All Right.. Sick In The Head.
More Flotillas are coming and once again they are packed with martyrs. This time in order to extract maximum propaganda punch and feed eager progressives their requisite dose of Israel hating outrage, Islam is now packing secret weapons..
Samar Alhaj, the woman leading the Hizbullah-linked Lebanese boat that is scheduled to try to block the naval blockade on Gaza, said in an interview with a regional Israeli Arabic- language radio station in Nazareth that women were "the new secret weapon" in use against the "thieving enemy."

Asked on Radio A-Shams by Zohair Bahloul why the ship, Mariam, would only be carrying women, she said, "We are women in order not to give the thieving enemy an excuse to use arms against the ship." She said the ship would be carrying cancer medication for children, and women suffering from breast cancer and cancer of the uterus due to "chemical bombs" dropped on Gaza by Israel.

Alhaj is the wife of an officer in the Lebanese security service who was jailed for four years for alleged involvement in the assassination of former Lebanese Prime Minister Rafik Hariri. Alhaj and her husband met with Hizbullah leader Sheikh Hassan Nasrallah on May 22.
In other words another 'peace' flotilla, powered by the new Islamic Feminism!
The levels radical Islam and its western sympathizers & enablers will now go to in order to de-legitimize the Jewish State have reached cataclysmic new lows. Encouraged by a planet that reflexively condemns Israel, radical Islam is now serving up cancer stricken women readied for martyrdom - All in order to feed the insatiable need of anti-semites everywhere for more pure unadulterated Jew hatred.
It's like a Pay Per View horror show of depravity. Hezbollah, which actively preaches martyrdom is sending its own sickened & blindly following Allah women out to goad Israel to violence against them for the cameras. As a cherry on top for their narrative from hell, they are armed with heart string pulling cancer medicines for 'children', which should prove to make an excellent by-line in news stories everywhere trashing us when we are forced to act – By maintaining our legal blockade against an entity with whom we are in fact at war.
Lest you for a moment be a European sucker..
Or perchance believe this is actually about Gaza, the organizers make clear exactly what the real mission is..
Meanwhile, Yasser Kashlak, a Syrian businessman of Palestinian descent who heads the "Free Palestine Organization" and is funding this boat, as well as another that is to carry journalists and parliamentarians, said over the weekend on Hizbullah's al-Manar television station that he was more and more optimistic that one day these same boats would take "Europe's refuse [the Jews] that came to my homeland back to their homelands.

"Gilad Schalit should go back to Paris and those murderers go back to Poland, and after that we will chase them until the ends of the earth to bring them to justice for their acts of slaughter from Deir Yassin until today." Kashlak, a fervent Hizbullah supporter, called Israel a "rabid dog sent to the region to frighten the Arabs.

He said he had a message for Israelis: 'Get on the ships we are sending you and go back to your lands. Don't let the moderate Arab leaders delude you, [you] cannot make peace with us. Our children will return to Palestine, you have no reason for coexistence. Even if our leaders will sign a peace agreement, we will not sign.'" He said the boat carrying journalists and parliamentarians will carry 12 former American diplomats as well..
The destruction of Jews, the destruction of Israel, the de-legitimization of our very existence is the goal. No one could care less about humanitarian aid to Gaza, in fact if everyone in Gaza died de-legitimizing the filthy Joooz that would be fantastic!! Just a bit more propaganda grist for Allah's sick mill.
In order to garner legendary hate ratings Allah's servants in radical Islam are now serving up their own women, complete with cancer and every other manner of propaganda for an eager audience. How can we combat this when so called 'normal people', nihilists everywhere are not only not repulsed, but are actively supporting this depravity under the guise of being humanitarians?
Leader of the Free World – President Obama.
How can Israel a tiny country which stands almost alone in a sea of billions combat this, when the President of the United States of America – The leader of the free world himself cannot even show enough fortitude to stand up and say his own country is at war with this depravity & radical Islam, its chief breeding ground? When by his own order the words Jihad, radical Islam, and Terror are to be stricken from the lexicon..
Do you know what term then replaces these words in such a vacuum of moral leadership & fortitude? The word Humanitarians.
UPDATE: Hezbollah interprets our moral outrage & conundrum over this depravity as 'more weakness'
'The Zionists fear boat carrying women who want to deliver aid to Gaza, so how will they be able to face rockets in next war?'
Not only that, but to wipe the taint of Hezbollah from all this the ship is purporting itself to be a Christian Mission! Including praying at shrines of the Virgin Mary. Taqiyya at its best. Black is white, up is down. It's a brave new nihilist world.
———-
More from the memeorandum.
Massive Leviathan, Tamar Natural Gas Fields Poised to Transform Israel Into Energy Exporter
for 62 years we have made the desert bloom, innovating water & drip irrigation technologies which have literally changed agriculture and the planet itself. Sadly, our quest for the desert's more famous yield - Oil has been less than fulfilling. Surrounded by the world's largest energy exporters Israel until now has been no pun intended, dry.
The planet is addicted to oil, nearly everything today is seemingly petroleum based. But the age of big oil is slowly coming to an end.  Oil is dirty as evidenced by the tragic disaster off the US Gulf Coast. Developed economies are scrambling to move and develop cleaner burning technologies to both supply our fuel, as well as skyrocketing global energy needs. Coal & Oil aren't going anywhere just yet, but the next century may belong to Natural Gas as the new big boy of global energy.
Tamar & Leviathan
The last 2 years have seen blessings bestowed on the State of Israel with the discovery of massive natural gas fields in the Eastern Mediterranean by Texas based Noble Energy & Israeli consortiums. Discoveries within arms reach of the Israeli coast and within our territorial waters. In 2009 the Tamar Israel discovery rippled across energy markets, Tamar discoveries can power 50% of Israel's energy needs for the next 4 decades.
Now in 2010 a new unbelievably larger reserve named Leviathan may yield massive amounts of natural gas, estimated at possibly twice the size of Tamar! If Leviathan yields, it can transform Israel into a global energy exporter.
The Leviathan natural-gas site off the Haifa shore could be twice the size of the Tamar prospect, the largest gas discovery globally in 2009, and position Israel as a gas exporter in coming years, US oil operator Noble Energy Inc. said Thursday.

"Today is a day of celebration for all of us. The State of Israel is an energy independent country," Yitzhak Tshuva, controlling shareholder of Delek Group, said Thursday. Delek is a partner in the Leviathan natural-gas find through its subsidiaries Avner Oil and Gas LP and Delek Drilling LP, who each own 22.67 percent. [...]

"In March, when I was last in Israel, I said that Noble Energy planned to be here for decades to come," Noble Energy chairman and CEO Charles Davidson said Thursday. "I am thrilled that today's announcement substantiates the potential of a new and significant energy basin in the eastern Mediterranean, which, if successful, could position Israel as a potential energy exporter in future years.

"I would like to congratulate the State of Israel on the discoveries of the last year and a half, which have the potential to strengthen the economy and security of Israel. Noble is honored to be working with our Israeli partners in this historic development." [...]
Noble has to date been a gracious partner, aware of the delicate needs in Israel to both drive profit and secure the State energy wise. By the same token, Noble and its consortium of Israeli partners will require the State of Israel to tap these reserves. Apart from licenses, there are unique security needs, as well as substantial infrastructure investments needed which will largely fall on Israel to supply.
Lebanon & Its Embarrassing, Ugly Islamic Step Child – Hezbollah
Of course, If Israel has it, you can rest assured Hezbollah wants to lay its greedy little Islamofacist hands on it. The exploratory permits licensed to Noble and its partners where these discoveries are being made are clearly off Israeli waters.
The Lebanese know that the messy little country they have thanks to their pals like Syria & Hezbollah will not draw the billions in foreign exploratory & drilling investment needed to tap whatever reserves may be off their own coast. That has not stopped Lebanon jealously eyeing Israel's new reserves, or Hezbollah from issuing threats. After all, Israel belongs to them as per Hezbollah 'logic' – Muslim lands occupied by Zionist invaders!
Hizbullah: Israel's gas belongs to us

Hizbullah claims that that the natural gas fields recently discovered in the Mediterranean, belong to Lebanon and warned Israel against extracting gas from them. Iranian English language paper "Tehran Times" quotes Hezbollah's executive council chief Hashem Safieddine as saying that it would not allow Israel to loot Lebanese gas resources.

Earlier this week, Lebanese parliamentary speaker Nabih Berri told "AFP", "Israel is racing to make the case a fait accompli and was quick to present itself as an oil emirate, ignoring the fact that, according to the maps, the deposit extends into Lebanese waters. Lebanon must take immediate action to defend its financial, political, economic and sovereign rights."

Marine law expert Amir Cohen-Dor of the S. Friedman & Co. told "Globes" that the Dalit and Tamar gas fields are within Israel's contiguous economic zone, and that under the 1982 UN Law of the Sea Convention, Israel can exploit resources in its economic zone.
Gas War Zone?
Both Hezbollah & the Lebanese Parliament which are today one & the same are getting in on the threats. Make no mistake, this is a threat against infrastructure, pipelines, rigs, shipping and investment needed to tap the reserves that will all be required in the future. The Lebanese have gone so far as to issue veiled war threats..
Lebanese daily "As-Safir" today accused Israel of stealing Lebanon's natural gas.

Lebanese parliamentarians made similar accusations following the discovery of the Tamar and Dalit gas reserves in 2009.

"As-Safir" correspondent Halami Mussa wrote, "Israel plans to steal natural gas from the territorial waters of Lebanon." He claims that "the reserves are located outside the territorial waters of Israel and are in Lebanese territory." [...] "a serious political and economic issue", which could be cause for a diplomatic dispute between Israel and Lebanon.

Mussa said, "The area where the seismic survey was carried out is offshore from the coast of Lebanon, between the international border of Palestine and Cyprus." He utterly ignores the presence of Israel, but says, "Israel, which received the mandate from Britain, which has no rights to Palestine, gave to some of the license to American companies without any right to do so."

The Ministry of National Infrastructures Map of Petroleum Rights shows that the Tamar license, as well the licenses that make up the Leviathan structure are located west and northwest of Haifa, south of the Israel-Lebanese border
Potential for conflict is real
With Israeli sovereignty being questioned as usual by Islamists & terrorists, and Lebanon laying absurd claim to Israeli natural gas discoveries the potential for conflict is real. Israeli withdrawals from Lebanon have been certified by the UN, yet that did not stop Hezbollah from launching a war in 2006. The Israeli coastal demarcations are also clear, there is little reason to believe that will stop Hezbollah or its patrons from trying to initiate conflict, terrorism & violence either.
This is part and parcel of the Noble partnership with Israel. Infrastructure - both sea based and land based to process the LNG will need to be patrolled, secured. The State may even be forced into war to secure safe resource extraction.
Turkish Non-Delight!
The notion of Israel becoming an energy player will drive the Iranians and their lapdogs mad, that is to say on top of their already certifiable Islamist state of psychoness. Further, Turkish relations with Israel have been spiralling and it has less to do with Gaza aid flotillas, more to do with large economic interests such as these Gas discoveries.
Israel is poised to knock the Turks a few pegs down on the international scale if it starts exporting large quantities of LNG. This threatens Turkish LNG pipeline plans from Russia, potentially removing them from a profitable picture if Israel begins large sea based exports of LNG to Europe & Asia in the coming decades…
Peace and even clean burning energy in the Middle East does not come cheap.
Youtube Eyeblast Revolution
Our enemies are liars & propagandists. In Israel we face the contemptible yet all too vogue wave of moral equivalence that is sweeping the Liberal world. The Jew and Israel is judged by a twisted double standard – While the hate monger, the gay beater, the Islamofacist who denies nearly every freedom imaginable is cheered and admired from afar, granted almost heroic status. The challenge to confront this is immense.
The world delights at condemning Israel.
The nations of the world literally line up, they get in line and wait one after the other to condemn Israel at every opportunity. Truth is irrelevant, we saw this at Jenin, we saw it when shells hit a beach in Gaza, we saw it when Hezbollah organized propaganda for eager willing media in Lebanon during 2006 hostilities. We saw it with Mohamed Al Dura – Lies beget more lies and the media perpetuates a narrative written by peoples, groups & organizations that are not only in theory supposedly outcast by humanity, but literally illegal! The word of the terrorist carries more weight in this twisted landscape than the word of a free, democratic, lawful state like Israel.
It seems as if whatever propaganda our foes engineer is celebrated in an orgy of media & editorials, backed up by instantaneous international condemnation. Mind boggling, the only explanation is hatred. Can we fight back? Not conventionally. Our guilt is pre-determined irrespective if we were even at the scene of the crime. If the truth finally emerges, the lies or slander is never retracted. Fighting against this wave seems insurmountable.
We can chip away
We have to be quicker, more clever, and just as devious. Our own Propaganda can as exhibited below accomplish that task, because it carries with it something our enemies propaganda lacks, a core of truth. The Latma spoof: We Con the World in 4 days has well over 1 million views, and that is just at the original upload spot at YouTube.
The IDF video (graphic) showing the brutal beating of our soldiers by 'peace activists', was the top video at youtube for a few days running. Garnering nearly 2 million views and that is without the airing in international media. Sadly the long delay getting it to that air, cost us dearly in Israel. Lesson learned.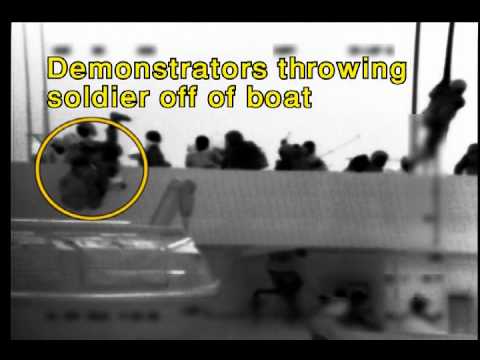 We may not be able to out lie our opponents.
It is not in our nature, but we can outsmart them. We can outflank them. If anything the latma spoof has  proved we must not only be on offense militarily to protect the State, we must do so in the PR realm as well. We are just as passionate, and just as dedicated as our foes and our cause is eternally more just. There is no reason to be losing this battle for PR supremacy. The world may delight at condemning us, but the spoof should prove to one and all that we should delight at condemning them too.
The Truth will not set us free, broadcasting it out in a clever nimble way however just might.
UPDATE: Youtube responding to anti-Israel pressure from WarnerBros music pulled the We Con the World video after 3 million+ views due to what they claim is "copyright infringement". Of course we all know in the blogging world that parody clearly falls under copyright fair use clauses.
The North Koreans Don't Appear All That Deterred
Iranian apologists and those actively pushing for engagement at all costs have tabled the notion that accepting and deterring a nuclear Iran is a viable, workable option. This philosophy however is not embraced in Israel, and looking at recent events on the Korean Peninsula it is easy enough to see why.
Emboldened
One of the primary fears in Israel, beyond trying to live with an Islamic Fundamentalist Iranian regime possessing nuclear weapons that can nuke the Jewish State is balance of power & deterrence. The fear is that Iran backed by nuclear weapons will be emboldened, and that Israel's ability to deal with Iranian terrorist proxies will be vastly diminished if not eliminated all together.
Those that speak of deterring Iran say that the Iranians are not crazy enough to unleash nuclear weapons, as doing so would bring Iranian destruction. Thus claiming "Iran is deterred" along the soviet MAD model, mission accomplished. However, the recent blatant act of aggression & war by North Korea sinking a South Korean warship & killing 46 sailors raises another all too deadly specter for Israel. The notion that rogue regimes & their proxies backed by nuclear weapons can initiate consequence free actions of a conventional nature, while the responsible democracy at the receiving end is powerless to respond or defend itself fearing a possible nuclear escalation.
Terrorists Run Amok
What is to stop Hezbollah, or Hamas backed by Iranian nuclear arms from initiating aggressive murderous action against Israel? How many rockets should Israel absorb launched at its civilian populace before responding? Further how much force can be used to respond if there is a possibility of escalation to all out war, and subsequently a possibility of nuclear exchange? The counter argument is that rogue elements like Iran will behave rationally. But was it rational for North Korea to risk nuclear war by suddenly for no reason sinking a South Korean warship? Equally, no actions by Islamist terrorist groups have historically been all that rational in the first place.
What of deterrence?
The only party that seems deterred is South Korea which is now relatively powerless to respond to this blatant act of war. This type of scenario repeated in Israel would make life in Israel nearly unlivable. Israel depends on the ability to react, strike & deter in self defense from criminal / terrorist actors on our borders. If this ability is compromised, our own deterrence evaporates, along with our ability to defend the State of Israel.
We could see never ending rocket or terrorist actions threatening every part of the country destroying commerce, and threatening civilian life; While our ability to react is severely compromised for fear of massive escalation, bringing in rogue nation states armed with lethal WMD & nuclear options.
Testing the limits
Hezbollah has already digested the North Korean action and seen the West nearly powerless to respond save for some harsh language. As a result, they are clearly not deterred but emboldened announcing they too in the future will seek to strike ships entering Israeli coastal water, irrespective of flag or civilian nature. This announcement comes before being backed by nuclear weapons like their friends in North Korea. That does not bode well for reading their possible future behavior backed by a nuclear armed Iran.
The only people seemingly deterred when rogue regimes and terrorist elements possess nuclear weapons will be the responsible democracies of the West, Israel included. Those that argue to the contrary & preach accommodation and engagement with irrational rogue actors need only look at the 'rational North Koreans' sinking warships out of the blue with nary a concern for consequence, for hints as to what the future may hold.
For Israel as well as Arab & Gulf states surrounded by terrorists & aggressive rogue neighbors, that modeled on curent reality possible future is wholly unacceptable.